Old Boys
If you have any Old Boys' news, please email it to the Old Boys' Secretary, Tony Sparshott, at sparsant@gmail.com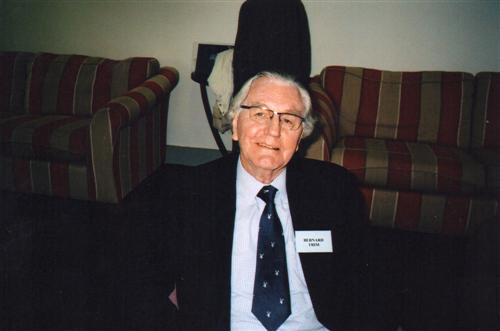 Bernard Trim, who returned to Papplewick for Old Boys' Day 2016. He was one of the nine boys who started when the School opened in September 1947.
Missing Old Boys
As from 25 May 2018 the laws on data protection have changed with the arrival of the new General Data Protection Regulation. The most significant part of the new laws is the need for explicit consent from Old Boys for the use of stored data for activities beyond the purpose for which it was gathered. This means that although the Editor can keep the protected database for the annual distribution of 'The Old Papplewickian', the list of Missing Old Boys has had to be removed from the Old Boys' page of the website because the general public has access to this.
Old Boys' Day 2018.
The Cricket match v the HM's Xl was played in the middle of the June/July heat wave and stops for drinks were essential for survival. The Old Boys batted first on a rock hard pitch, losing a couple of quick wickets before James Coyne, playing for the first time for five years, steadied things with an innings of 50 before he retired. He was ably supported by Tommy Bellm, who scored 20, and the Old Boys' Captain, James Brooks, produced his usual 50, before being bowled. With Jojo Regan's 17 and useful runs coming in from the other batsmen the Old Boys declared their innings closed, leaving the HM's Xl to attack a score of 195. The best bowling of the HM's Xl was produced by Harry Bunbury (3-33) who was on temporary loan from the Old Boys.
The HM's team began their innings well with their first wicket falling at 43 and their No 1 scoring eleven 4s before retiring at 50. Other batsmen scored freely too and the total gradually rose towards the desired amount, though wickets were falling at the same time, thanks to some good bowling by Will Harrison (5-30.) With an hour's play remaining the result could have gone either way, but in the event this year the Headmaster did not succeed in frustrating the endeavours of the Old Boys with his usual dogged defence, and his team were all out for 173. It was an excellent game, full of excitement, where the Old Boys managed to emerge victorious.
Missing Old Boys.
If you have not been receiving the annual 'Old Papplewickian' by post, there is every possibility that we simply do not have your name on our database or that you have moved house and have not passed the news on to us. If this is the case, please would you contact Tony Sparshott (sparsant@gmail.com) to let him know your postal address and we shall ensure that you will receive a newsletter in the future. Many thanks.