This year, as well as enjoying dressing up in their favourite costumes, the boys were treated to Polish, Croatian, and Spanish lessons and a concert from a well-known Russian pianist.
Many thanks to Ewa Lazar, Daniel Gojnic, and to Maria Douglas for being brave enough to teach the boys Polish, Croatian, and Spanish respectively throughout the morning. Thank you as well to our Russian families for introducing Evgeny Samoyloff to the boys who gave them a virtuoso performance on the piano in the main hall.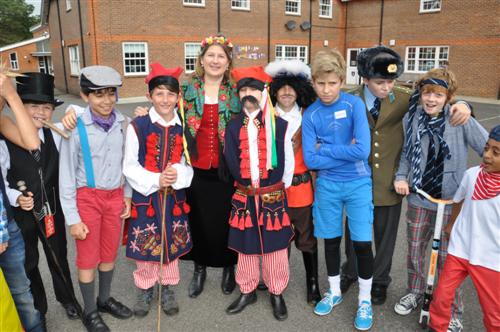 Finally, many thanks to Mme. Cisse and the whole French department for putting on such an enjoyable day for the boys.
Well done in the costume competition to:
Lower School: 1st - Liam Strangemann (Scotland), 2nd - Archie Wooldridge (Rome)
Middle School: 1st - Viktor Lazar (Poland), 2nd - Monty Johnstone McLaren-Clark (Churchill)
Upper School: 1st - Abdulla Abdulla-Zada (Azerbaijan)
Staff: 1st -Mr. Powis (Austrian Lederhosen) 2nd - Miss Williams (Andalusian Flamenco Dancer) 3rd - Mr. Wood (Yorkshire)